Awards
The service of our teachers have been recognized by many International, national as state-level bodies and they have been showered with numerous awards.
The Mandal is the recipient of prestigious "Aadivasi Seva Sanstha Puraskar – 1997" of Maharashtra Government for its work in tribal regions and the "State Government Award -2002" for Educational institutions. The work of the Mandal has been appreciated by many organizations and received honors in the form of awards and certificates from time to time.
The Mandal is the recipient of prestigious "Paryavaran Puraskar – 2014" bestowed by Sant Gadge Baba Amravati University, Amravati."
Honours
The breath taking demonstrations of the HVPM team mesmerized the world. They sparked intense curiosity about Indian physical culture, and these spectacular displays were staged at several international events.
The Berlin Olympic games in the year 1936 and the Lingiad festival in 1949 at Stockholm. In the Berlin Olympics the team was honored with a medal by the then German Dictator Adolph Hitler.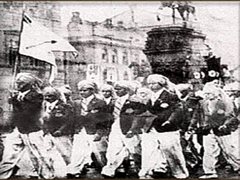 Achievements
Participation of its members in National freedom movement.
First time in India prepared detailed syllabus of traditional system of physical culture and implemented through Summer physical training classes.
First time in India organized on large scale demonstration – cum- propaganda tours to different states.
First time in the history of India, organized and displayed traditional activities of India in the International Pedagogic Congress -1936 at Berlin during the XI Olympic Games.
Team participation at the World Lingiad Festival Sweden-1949 representing India.
Organisation of first All India Physical Education Conference 1946, at Amravati which was inaugurated by Shri Sharad Chandra Bose.
Revival of the age-old system of Indian physical Culture and giving it a modern and mass form and popularizing the same throughout the length and breadth of the country
Pioneering short term courses and conducting classes in them every year and proving their efficacy utility so that the idea is now imitated at a number of places.
Organising and conducting tours of 150 to 300 youths (inclusive of large number of girls each time) to visit different towns in different times of the country and giving displays in the Art of Indian Physical Culture before large audiences; thus creating mass awakening in the country.
Linking the movement of physical education with the national movements of renaissance and reconstruction and canalizing energies of the Mandal's workers through channels of social service and public welfare.
Opposing trends detrimental to physical upliftment of masses and creating trend, which are beneficial to them. This also meant creating correct understanding of the problem of physical education.
Supplying a large number of workers as trainers, organizers and propagandists of physical education to local bodies, educational institutions and social organizations.
Deputing its members to foreign countries for studying other methods of physical education.
Sending teams of Indian youths to countries for giving displays of the Indian Art of Physical Culture.
Organising provincial and All Indian Conferences of physical education.
Participating in Inter-national conferences and congresses of physical education and expounding the merit of the Indian system of physical before the bar of world opinion.
Establishment of a healthy association and co-operation between official and non-official efforts towards physical improvement of the younger generation.
Carrying on its affairs on the strength of honorary workers and keeping the flow of such workers constant and unceasing.